Social gaming in a nutshell
The word "social" is frequently associated with interaction with like-minded fellows or community building activities. This is pretty relevant for the gaming industry – money is not a top priority within the social paradigm, while gamers involved are motivated to create a network of people binded by common interests. 
What do the core principles of social gaming look like? 
Social media is a cornerstone
Virtual farms, mafia contests, word games, even social casinos  – all social gaming representatives are often introduced on social networks like Facebook, which sounds quite logical. Social media and networking services are the best place to distribute social gaming.
"Socialize and have fun" is the motto
Apart from spreading your circle of acquaintances, you have a great time together, while acquiring a one-of-a-kind gaming experience and the spirit of friendly competitiveness.
Why is social casino booming?
It might have seemed that the terms "social" and "casino" would have never occurred together in one word combination, even in one sentence. But it is what it is – social casinos are not only on everyone's lips but also gathering pace in the community of reckless gamblers. Why so? There are no disruptive financial gains possible or shivering from fear of losing everything within a crack.
We'd see the reasons why social casino gaming is perceived with an excitement as follows:
Interaction 2.0
As stated above, a social element implies communication. Players react positively to the idea of not only mere betting, but also networking, no matter how weird it might sound on the face of it. Man is a social being, so a chance to be in touch and chat either with other people at a virtual casino table or with dealers comes out as a benefit.
Lucrative cross-selling strategy
Look, as the risks to hit the pockets are lower, people are generally more prone to starting a social game. No strings attached, fun only. In fact, as the time goes by, they're trying to resist the temptation of switching to the "real" online casino game, forgetting about the fear of losing cash. Provided the advanced cross-selling techniques enter their lives at the right time and place, social casinos act as a bridge between an innocuous entertainment and big money.
Law-abiding gambling
While the situation with online casinos and their relationship with legal authorities might be fickle in many countries, not saying that there are markets where gambling is not allowed at all, social gaming turns out to be a pretty good alternative in terms of state limitations, tricky rules that must be followed, or compliance conditions. 
So, want to avoid pain in the neck, exploring dos and don'ts of running the gambling business? Social casino is definitely what you'd better pay attention to.
Are there any ways to monetize social gaming activities?
"What's the revenue source?" That's probably the first question coming to mind of online casino operators. Sounds fair enough, as casinos are historically all about money. Miscellaneous casino games, including poker, blackjack, and backarat, to name a few, are all giving attractive opportunities to multiply their earnings. 
What about social casinos? No prize provided; in case of victory, all what players are free to get is extra coins or spins to go on challenging the fortune. 
However, even social gaming can be accompanied by effective monetization scenarios – when the game is in full swing, the flow hardly goes without in-app purchases. "Show must go on", which is instantly achieved by offering a player a paid opportunity to prolong their game session. 
This is how upselling works – just gauge the right moment to suggest some credits for an affordable sum, and the players who can't take their eyes off the game are all yours.
Who might be interested? Let's look at the target audience
As it's hard to answer in one sentence who the most loyal fan of social online gaming is, we've gathered a couple of assumptions regarding the candidates who definitely can't pass by the social casino offering. 
Women aged around 40 are recognized as the profile actively searching for this type of pastime.

Youth is not indifferent, too – an age range between 21 and 34 is considered to be positively affected by social gaming initiatives presented on the market.

Thirst for real money is inevitable – more than a half of social gaming adopters at least once tested gambling aiming to make a buck.

Up to 5% of social gamers go beyond completely free options, paying for the chance to go ahead and play further.

Among those who tried paid features in social casinos, over 80% are turning into real gamblers. Quite a fertile ground to promote cross-selling, right?
Market concentration
The rating of markets where social gaming shines in revenue results looks this way: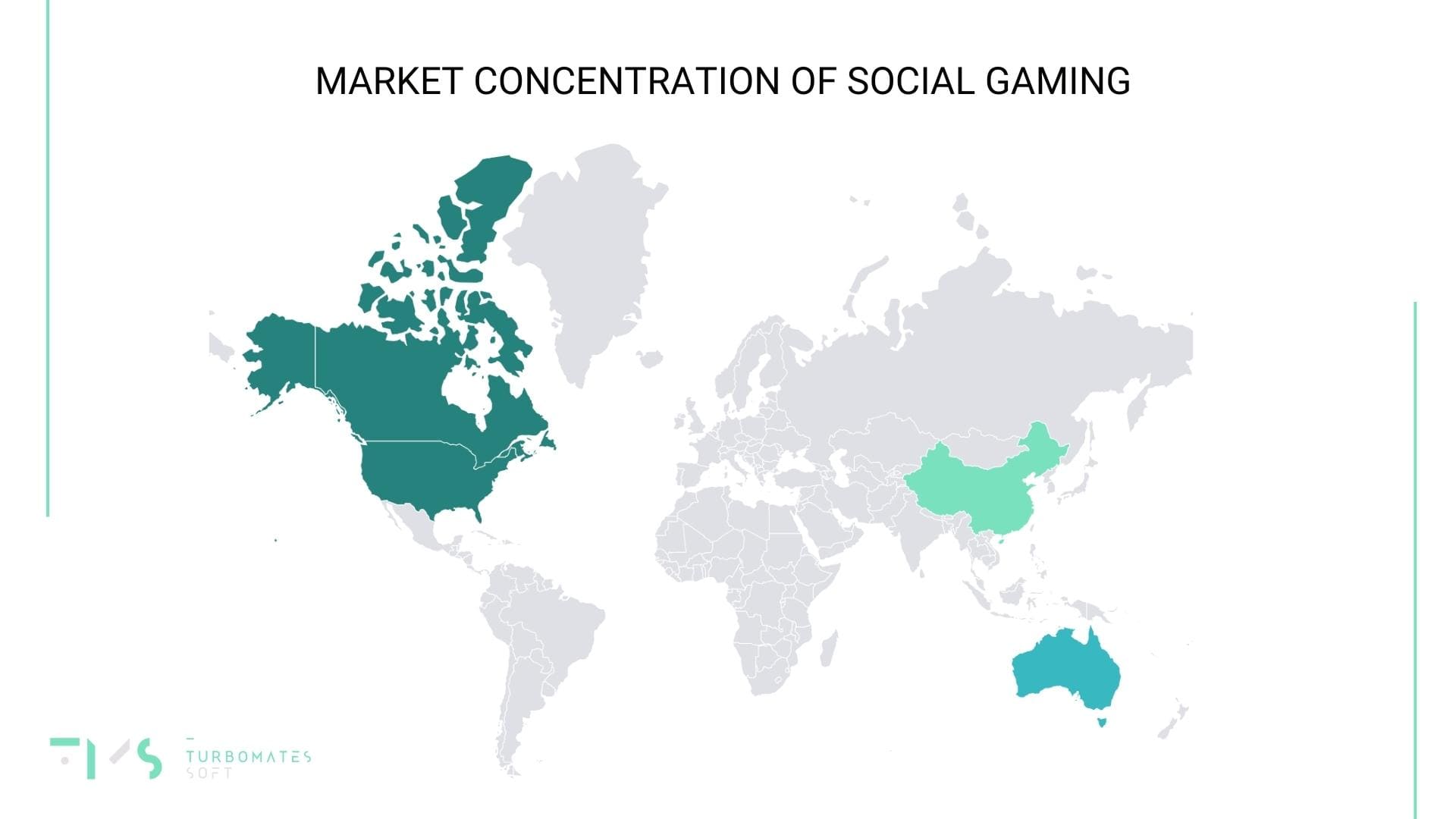 The winner is North America generating around 70% of gross gaming revenue in this field.




Second place goes to Oceania, where Australia is the leader.




As in China some of the social games are banned, Korea rocks in the Asian market, which is in third place.
Social casino or real gambling? We'll resolve your doubts
It doesn't matter whether you've already made up your mind to devote your time and efforts to social casino development, or are wondering which online gambling strategy path will bear more fruit – we're available to support you in this intention either way. You don't need to puzzle your head over how to start an online casino, as Turbomates will guide you along the way.