Which features will be popular in online casino?
Turbomates Soft, a gambling software provided, decided to find an answer to this question and conducted a survey among 92 online casino experts. Today the company is sharing the results with you.
We analyzed the main directions of online casino development and based on the analysis, offered industry experts to choose one of the following options:
Live dealer games

Social gaming features

Cryptocurrency and blockchain technology 

Virtual and augmented reality
We deliberately did not include the option of AI technology because it is difficult to imagine the future of any industry without this trend.
The results turned out to be as follows: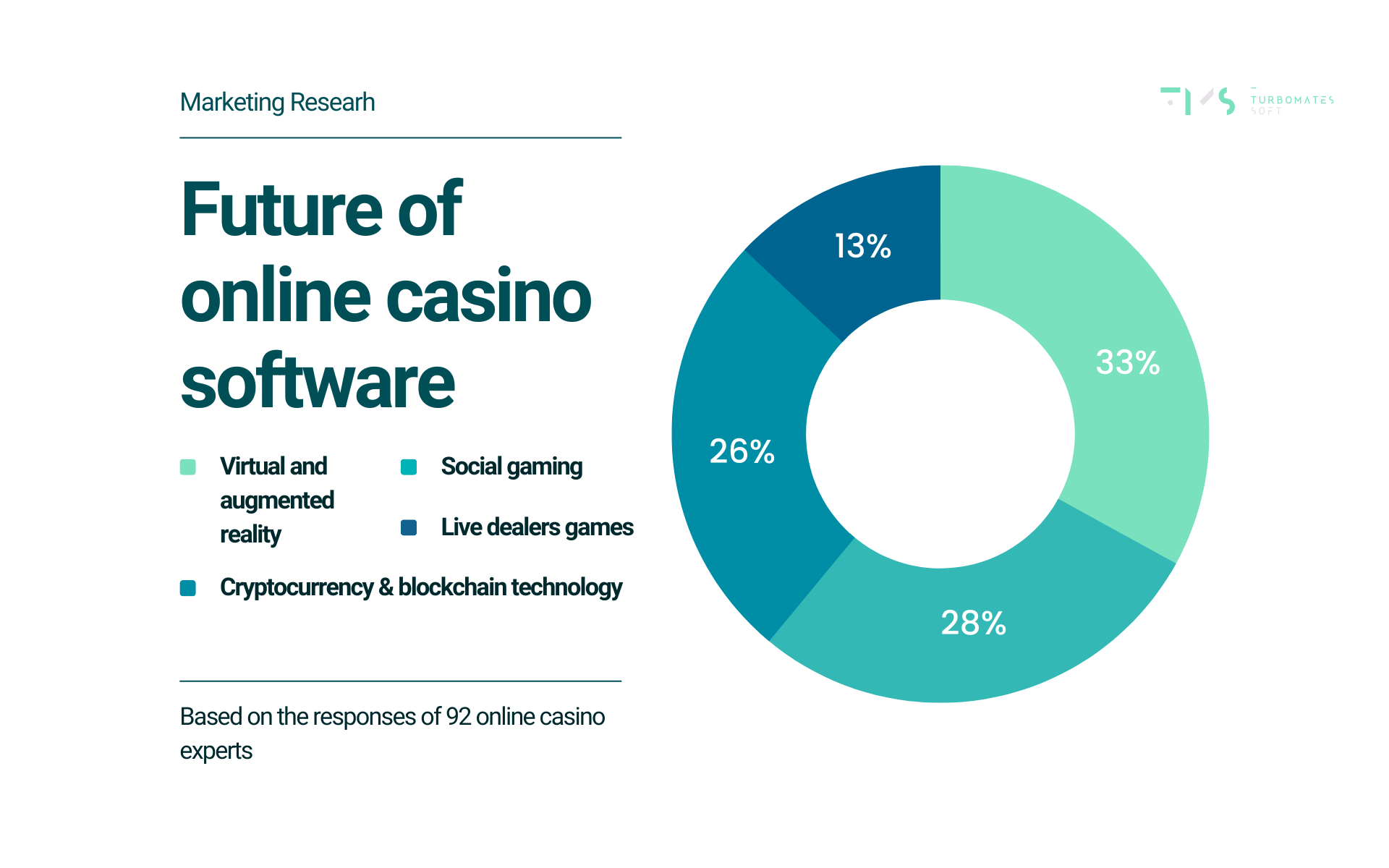 We asked our expert to comment on the survey results and explain why this trend will be in demand among online casino players.
Virtual and augmented reality (33%)
"By leveraging VR/AR technology, online casinos can provide a unique and immersive gambling experience that goes beyond traditional online gaming. These technologies have the potential to attract new players, enhance player retention, and ultimately revolutionize the way we engage with online casino games.

For example, an online operator will provide virtual casino environments that replicate the atmosphere of a physical casino. Players can use VR headsets to explore realistic casino settings, interact with virtual dealers, and engage with other players in a social, multiplayer environment. This enhances the overall gaming experience and adds a new level of excitement".
More social gaming futures (28%)
"Social gaming features have become increasingly popular in online casinos and this popularity will be growing due to many reasons. 

I consider, that the main reason is social interaction. Humans are social beings, and incorporating social gaming features in online casinos allows players to interact with each other. It enables players to connect, chat, and engage in friendly competition, mimicking the social experience of a physical casino. This aspect adds an extra layer of enjoyment and fosters a sense of community among players".
Cryptocurrency and blockchain technology (26%)
"Cryptocurrency and blockchain technology are poised to become increasingly popular in the online casino industry because they enhanced security and privacy. As more players recognize and embrace these benefits, the popularity of cryptocurrencies and blockchain technology in the online casino industry is expected to grow significantly in the coming years.

Moreover, it offers numerous benefits, including enhanced security, privacy, speed, cost-effectiveness, accessibility, and transparency".
More live dealer games (13%)
"From my point of view, this is a current trend connected with a land-based casino. Players can interact with real human dealers, observe the physical cards being dealt or the roulette wheel being spun, and engage in real-time conversations, replicating the social aspect of a brick-and-mortar casino.

The combination of an authentic casino experience, real-time interaction, trust, convenience, and game variety contributes to the growing popularity of live dealer games in online casinos. It provides a compelling alternative to traditional online casino games, appealing to players who seek a more immersive and realistic gambling experience".
We would like to thank all the experts for participating in our research! Your opinion is important to us and helps us improve and develop our products.