Make a gambling app for mobile, reach a wider audience
Why mobile? Let's compare mobile apps with web
If you've been wondering whether it's worth taking the time to create a mobile betting app for your sports games, look no further.
When it comes to sports betting, a mobile application is the way to go. Not only more trusted by users, but popularly favored as well – creating a bet-centric app will give you access to an engaged and growing market.
Gone are the days where being tethered to a desktop is necessary in order to place bets on games – today's players want convenience on their handheld devices. So why not capitalize on this trend by going in for gambling mobile app development? Look what you'll get with it:
Available everywhere, everytime
With the advent of mobile betting apps, convenience is at an all-time high. Users can now enjoy a streamlined experience wherever they are – in their living rooms or even at the racetrack. With a mobile app at your fingertips, you can quickly access your account and take advantage of limited-time offers or interact with the platform in an instant – no more waiting for slow internet connections.
Security to the max
App stores represent an extra layer of security for online betting, making sure customers feel safe when accessing their digital wallets. Unlike websites that may be vulnerable to being hacked and can selectively choose reviews from users, downloads and ratings in the Google Play Store or App Store give prospective players a more reliable indication of whether they should trust a platform or not – all without fear that information could have been tampered with.
Client-centered philosophy adoption
Mobile apps are the perfect platform to customize your customers' sports betting experience – allowing users to acclimate their choices, receive personalized notifications and updates on what they care about most. Interactivity is also key for collecting feedback and further tailoring of an app-based interface that can better suit user needs. What's the result? A personal journey with games tailored directly towards a consumer's interests: it's win-win.
Not only do you get a tailored selection of news, bonus deals, betting updates on their favorite sport but also convenient push notifications that will be more likely to pique their interest. Besides, interactive surveys ensure that your customers' feedback can help guide future improvements.
Things to consider before developing an online sports betting app
If you're at the very beginning of your launching online sports betting business, there are questions that should be carefully examined prior to driving a set of already planned software development, distribution, or marketing activities.
In case a process of working on an online sports betting app is ongoing, you're likely to have addressed the gambling specifics. Still, it won't take long, so you're welcome to make sure none of the points have been missed.
Different lands, different laws
Before overcoming business registration procedures, dive into countries' attitude to betting at the official level. Pay particular attention to the regions staying loyal to betting (some even don't make gamblers pay taxes on their winnings, e.g., the United Kingdom). 
Among other geographical locations tolerant to betting and introducing flexible betting legislation principles are Germany, Italy, and Australia.
Getting a gambling license is a must
This is an obligatory process which you have to begin with, before negotiating with software teams or even starting your business. Besides tiresome procedures around the collection of documents and business viability checks, you're going through financial expenses. They show their worth in the long run, though – as soon as your goal is a trusted, legal business, treat licensing fees as the investment in your stable revenue. 
Getting lost in the license getting requirements? We're always willing to help you with this and consult on possible options, while giving some tips on how to avoid the most common minefields on the way to obtaining a license.
How to reach trouble-free interactions with the app stores
To put it simply, you should carefully follow the guidelines provided by the Apple Store and Google Play Store. We'll introduce you some core principles you should follow to ensure that your betting application is successfully launched.
To meet Google's requirements,

A valid gambling license needs to be shown.

The solution should address all legal and industry standards applied by the country of its distribution.

Adults Only rating is a must.

No payments for the app are allowed

— free app installation is obligatory.
What does the Apple Store say?
Transparent rules saying that Apple has nothing to do with the betting activity 

No in-app purchases allowed

Strict licensing checks of the apps introducing real money games 

Sports betting app developer is in charge of sponsoring gainings.
To eliminate the risks of failing the review of the stores, get familiar with the full App Store and Google Store guidelines.
How to choose a payment provider you'll be totally satisfied with
As per our experience with different payment gateways, high security standards, transaction speed, and a rich choice of payment types available are the three key pillars especially valued by the app's end users. 
This shapes a couple of factors we'd recommend you to consider first and foremost, while making your choice of a payment provider:
Money transaction processes should make no one wait 
So evaluate the simplicity and efficiency of operations.
The variety of payment methods
There should be debit and credit cards, mobile payments, electronic bank transfers, digital wallets, crypto – all to satisfy each and every user.
Safety at the fore
Facilitating the security of financial transfers along with preventing fraud and money laundering activities
Location-oriented
It should easily adjust to the specifics of different regions and their payment processing rules and regulations.
Betting app features: basic and sophisticated
As sports betting apps on the market tend to compete to win the gamblers' loyalty, a lack of features or even their poor assortment might cost you significant losses of potential revenue. No worries, there's nothing tricky in avoiding customer churn and little interest from the users' side. Just mind the features mentioned below as compulsory: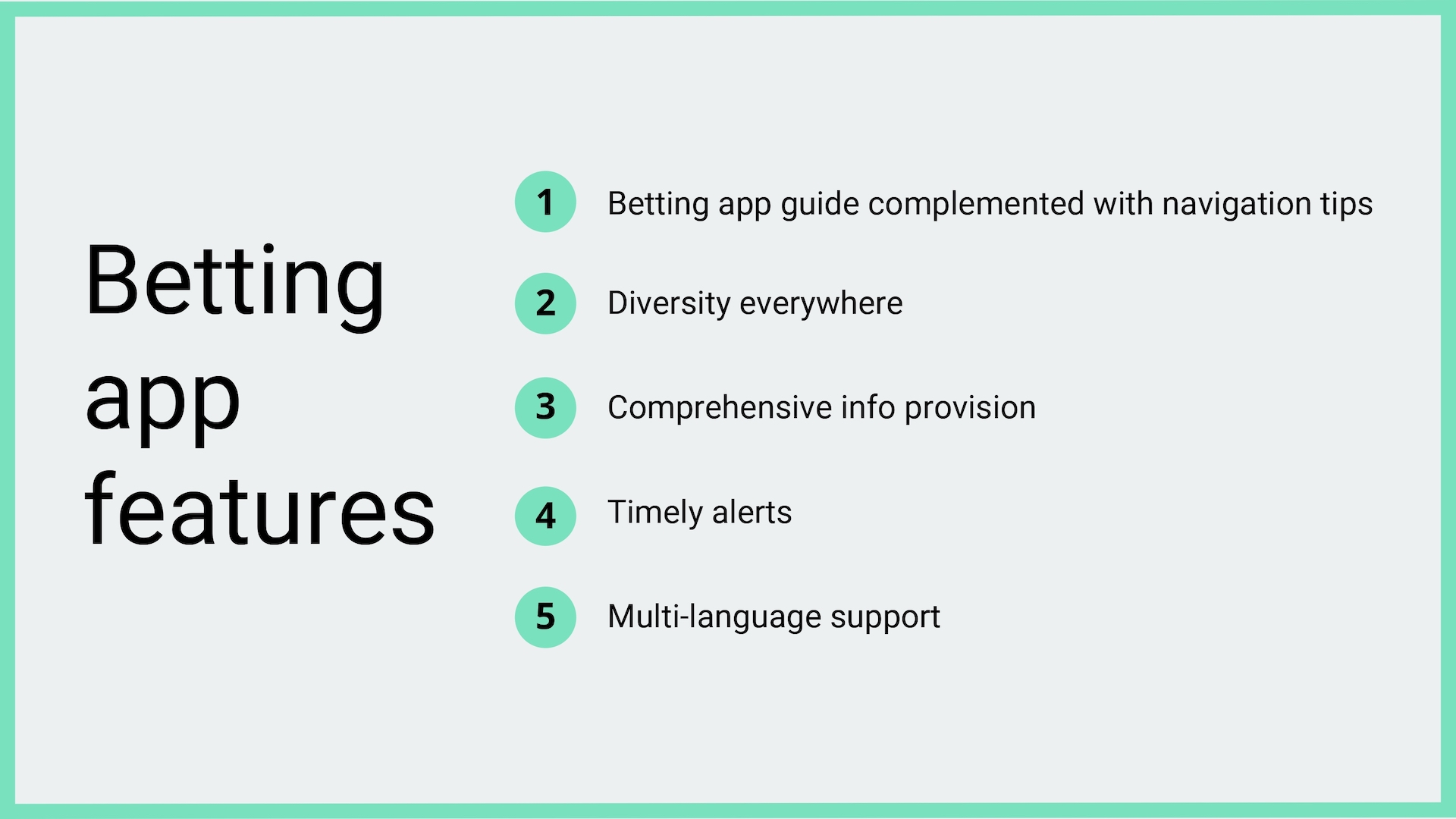 Betting app guide complemented with navigation tips appearing right on time
The clearer all the scenarios for the users are, whether it's a registration procedure or a game per se, the more relaxed they feel, which inspires them to make bets again and again.
Diversity everywhere
Quantity matters, so try to give your app users a generous choice of sports types, betting models, and categories, as well as payment options.
Comprehensive info provision
Avid gamblers feel calm and confident when they control the situation. So let them see for themselves that all is transparent and clear – gather the data about players, their latest achievements, stats on the games, and any other information that's meaningful to punters when making their betting choices. 
Besides, don't keep anyone waiting and assuming: schedules, courses of games, and match final results should be put in plain sight.
Timely alerts
It's good to know all the updates and news early in the day. Push notifications may become instrumental in keeping gamblers in the loop of changing game statuses, promotions, result announcements, etc.
Multi-language support
Mind the localization feature if your intention is to go beyond the local presence.
Surely, you're free to move beyond must-have functionality, especially when a rich feature set is expected to become your app's competitive advantage. This list can be infinite, however, we'd define some opportunities most commonly demanded by those utilizing gambling apps on a regular basis:

24/7 customer support to nip any issue in the bud

Engaging interactivity elements like online community of like-minded gamblers to let them unite and share impressions and life hacks

Bitcoin, Ethereum, and other crypto payment support
How about mobile development services for free?
No joking, just two simple rules to follow. As soon as you launch a web version of the Sportsbook platform and make a one-time payment for yearly support, Turbomates, a Sportsbook software provider, grants you a mobile app costing $0.