How to get an online casino license and enhance your gambling business
License in gambling: a necessity, not a luxury
"Changing a couple of law firms, I eventually realized it was time to move on. I remember myself desperately finding the niche to start my own business. 
When some IT projects failed, I turned to gambling. As a lawyer, I focused on a legal component of the casino. No stress caused by the legal issues, wider opportunities for promising business collaboration, a brand reputation bonus, and more trust from gamblers – those were the drivers to get the license faster, apart from my zero tolerance to any deception."    
The hero of this story is on first-named terms with laws and regulations, but even those online gambling operators far from legal education realize that an online casino license is a must to run a trouble-free business. There's no monopoly – Curacao, UK, Costa Rica, Malta, and a lot more are in, gaining the top rank among licenses. 
Obtaining a license is not an extra activity that's easy to skip. Launching your online casino? If so, you should consider this as the crucial step next to software development for casinos, like our turnkey gambling BetForge solution.
As a casino software provider, we can tell you more about each milestone on the way to running a thriving gambling business. But now licensing topics are on the agenda. 
How to succeed in getting the Curacao license as soon as possible? What's the complete list of documents and procedures required for acquiring a licensing status? Should you be afraid of cosmic prices or are they more than affordable? 
Time to stop being disturbed by a bunch of questions and doubts – we'll shed light on the process and sort out all the details. 
Follow the FAQs to explore the ins and outs of the matter
Why is an online casino license a must-have for gambling business?
Let's face it – the license concept is subconsciously associated with legality. And that's likely to be the first reason why a business should take care about the license. If it's in the bag, operators forget about legal concerns or suspicions from the side of the partners. Not enough? Here are top 3 pro arguments:
All financial deals go smooth
Opening a bank account and managing financial transactions are effortless if you're licensed. Imagine how many questions, restrictions, and rejections you'll be buried upon as soon as a financial institution finds out that the licensing process is yet to come. 
Doubling the power of brand reputation
Certifications always add more points to a company in the eyes of consumers. Quite reasonable, though, as it means you've overcome a bunch of formalities to prove your status of a trustworthy entity. The same with licensing – it boosts your credibility rate among players. 
Win-win business relationships on the rise
Have you ever experienced a refusal from gaming, software, or payment services providers?
If so, you can't but agree that it's preferable to do business with the top companies than to make do with those who didn't pass. The licensed online casinos are definitely given a priority position when, let's say, a well-known gaming provider is determining candidates for partnership. 

What if I go on doing business without a gaming license?
Apart from the risks and limitations already mentioned above, there are some other hardly pleasant repercussions, such as: 
Hefty fines 

Shutting your business down 

Imprisonment
The severity of legal punishment is governed by the jurisdiction where the unlicensed casino is registered, so don't underestimate the law when ignoring the license procedures.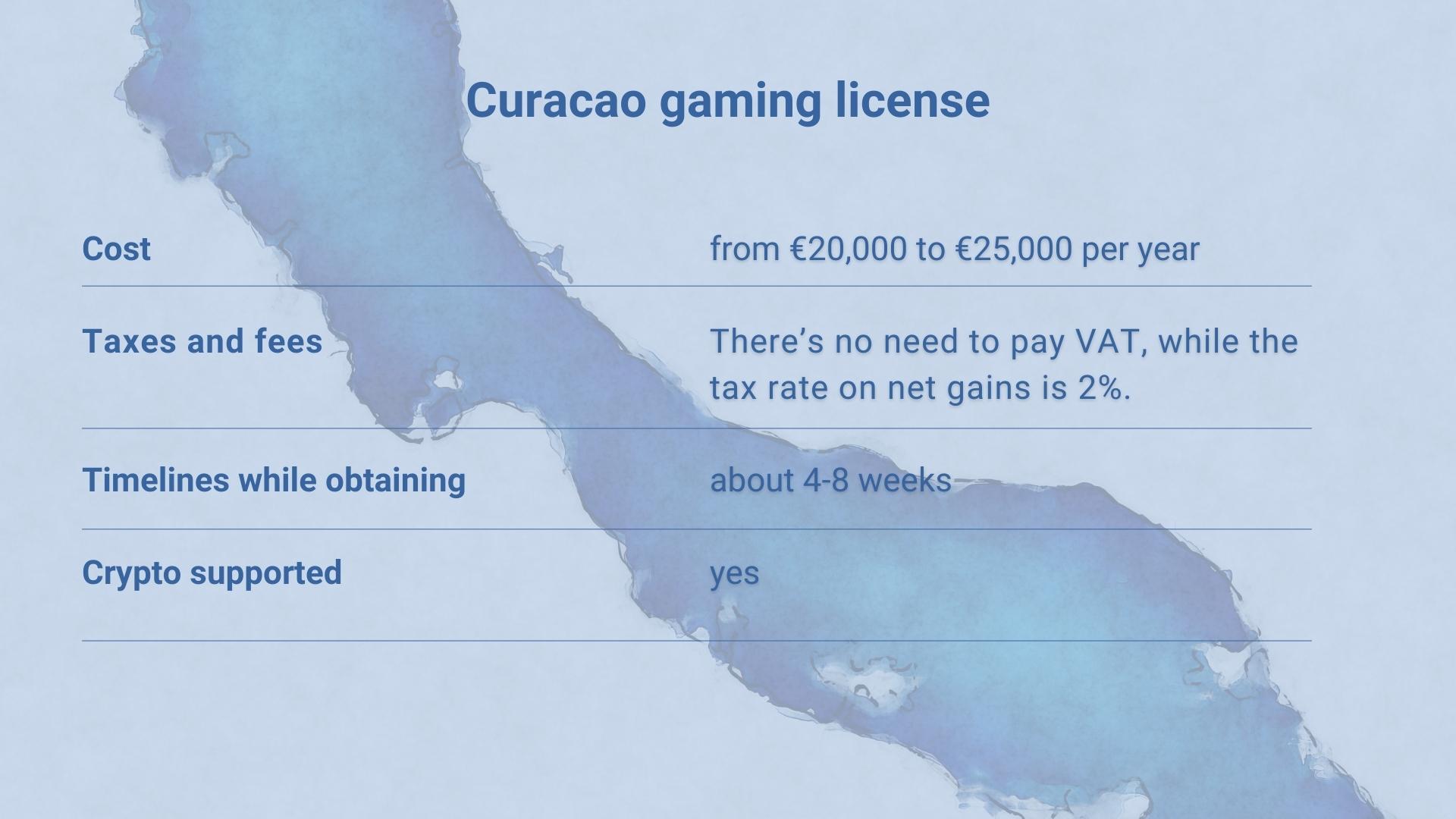 What license is worth paying attention to?
Among a diversity of licensing services, Curacao has earned the status of one of the most popular options. In short, it's fast to get and doesn't hit your pocket.
Let's take a quick glance on the details:
What about the place?
Curacao is located in the Southern Caribbean, which attracts not only with its white sands, comfortable climate conditions, and beautiful architecture, but also with a well-established track record for licensing gambling businesses.
It has become possible to apply for the license here since…
… 1996, 3 years after online gambling in the region was legalized.
Curacao master license or sub-license, this is the question
Although you might have heard about these two types, online operators should apply for the latter.
What benefits do I get if I opt for this very license?
It works for dozens of gambling activities
Among them are online casino, peer-to-peer games, bingo, lotteries, mobile phone games, etc.
No delays or long timelines while obtaining
About 4-8 weeks – and you are a happy owner of the license.
Budget-conscious
It's definitely more affordable than the alternatives.
Favorable tax conditions
There's no need to pay VAT, while the tax rate on net gains is 2%.
Crypto supported
Cryptocurrency gambling operations are available.
Any restrictions I should be aware of?
Mind some minor limitations related to the target markets. There can be issues with letting the participants from France, the Netherlands, the US, and Curacao play, so check out who the master license holder is. Each has their own rules.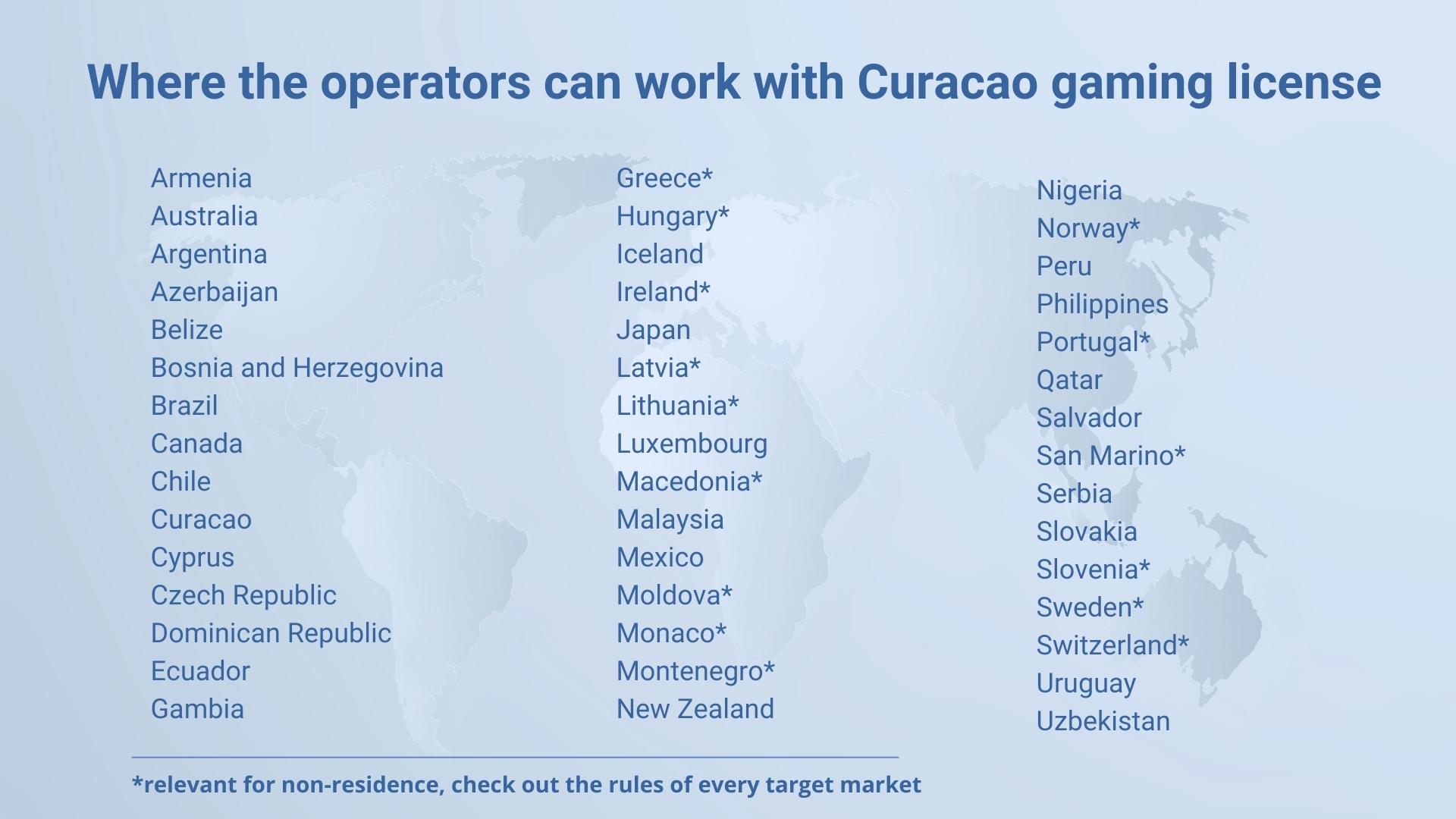 How much does the license cost?
If you examine other jurisdictions, the Curacao gaming license cost is among the most attractive offers. The fees range from €20,000 to €25,000 per year and include legal services and professional consultations apart from the license per se.
I'm ready to get the license. Next steps?
Although the procedure is far from being cumbersome, you still need some steps to take. They are:
Incorporating business in Curacao

Preparing essential documents

Submitting the application form

Paying the application fee
In about six weeks, you are welcome to operate your licensed casino.
What about the paperwork I should collect?
Usually, it depends on the master license holder and includes: 
Certified copy of your passport 

Resume

Utility bill 

Certificate of good conduct

Banker's reference

Police clearance certificate 

Confirmation of domain ownership

Software details (e.g., copies of software agreements)
Any questions left? Turbomates Soft is ready to respond
As our company delivers turnkey casino solutions, we're well aware of all possible bottlenecks which accompany you on the way to the license. If you want it all to go smoothly and hassle-free, we'll give you some clues. After our free consultation, you'll get a precise understanding of how to act. 
Need more support from our side? Let's discuss the scenarios of how we can contribute to successful license obtaining. As our specialists provide highly customized turnkey solutions for gambling, we know how to address all the software requirements so the license can be yours. Thus, if you're interested, let's talk about the ways we can be helpful.