How to choose a payment gateway provider for your online casino and get ahead
Payment gateway provider: make your smart choice
When we're talking about online casinos and iGaming in general, all is centered around payments. No wonder – it's all about making money (or losing them, when Fortune doesn't stay by your side). 
The smoother online casino operators organize payment processes, the stronger competitive differentiator they introduce to their end users. The diversity of payment methods available, no delays or unexpected bottlenecks when it comes to the payment execution, full compliance with security regulations – this is a tiny part of the questions and nuances that arise when you're scratching your head deciding on the best payment gateway for online gambling.
We're here to break it down for you and show some simple yet meaningful hints that'll let you win this payment gateway game.
Reliable payment gateways and their providers – what is it about?
Recognition
Relying on a no-name is risky, so don't feel pity about the time spent on the scrupulous examination of candidates. This step is strongly recommended to further decide on the trusted payment gateway provider and empower your gambling business.
Seamless functioning
As a payment gateway you're considering is definitely integrated with some software solutions already, it's the easiest way for you to go and check whether this ecosystem works swimmingly.
Transparent cooperation
All partnership details should be specified from the very start – if there's anything vague or unclear about them, you might then suffer from unfavorable conditions you've agreed to. Explore all fee rules, especially those written in a fine print, to plump for the charge regulations and predicted expenses convenient for your business.
Two-click checkout
Allow your clients to make literally one or two clicks before the payment is done. The more actions they have to take for a single payment procedure, the more bewildered they feel, which inevitably compromises a conversion rate.
A wide array of payment methods
More is better, as players always feel appreciated when they're given a rich choice. It's pleasant to be a winner, but a double pleasure is to receive game payoffs in a way that works for gamblers best.
How to pay: exploring the most widespread online casino payment options
Withdrawals and deposits go smoothly thanks to the diversity of payment scenarios. Gamblers are free to select a preferable way, among which can be: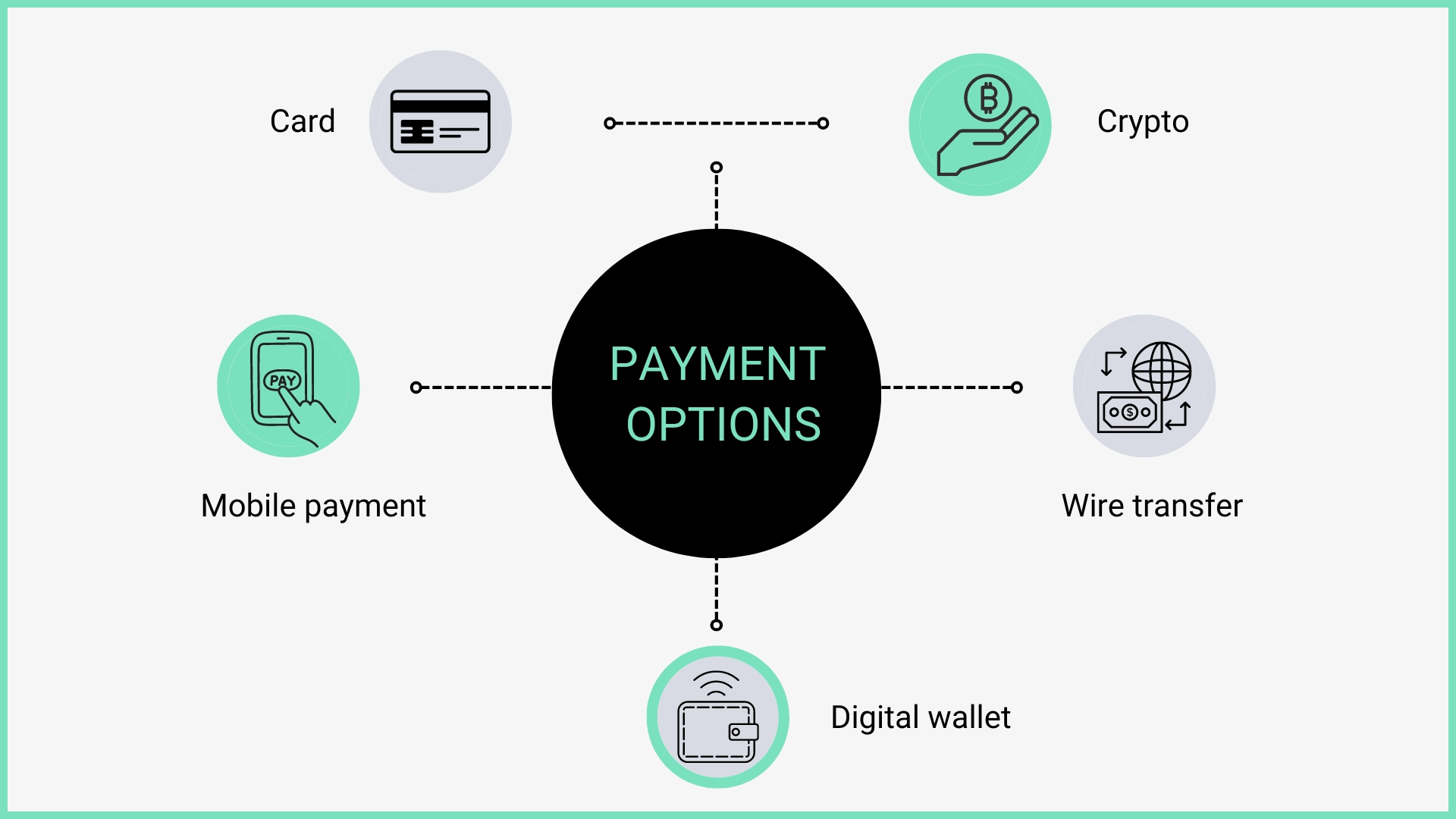 Either credit or debit cards turn out to be a thing each person has and uses in their daily operations. Online casino payment processing is no exception. Convenience, availability, and ease of use are the three key pillars of these methods and the reasons why cards first come to people's minds when it's time to fulfill a transaction quickly.
mGamblers appreciate the idea of binding their mobile phone numbers to cards or bank accounts – no redundant manipulations in case your telecom operator favors mobile payments. Those who prefer their telephones to start an online casino game are most likely to leverage this payment method.
Is there anyone left who has never heard about Bitcoin? Hard to believe, as this and other cryptocurrencies are evolving. Despite the fact that the crypto wallet method trails cards in terms of popularity, if you're prioritizing the security and privacy of payment transactions, you shouldn't underestimate this opportunity.

What are the major benefits of crypto and is building a cryptocurrency exchange worth the effort? Find out more. 
If the safety is beyond speed, this payment method in online casinos eliminates all risks connected with money transferring. Still keep your eyes open for bank fees and explore them in advance as well as the terms of obtaining money.

And yet another key to achieving utmost security – applying e-wallets instead of unveiling your bank accounts or other personal information to a casino. Whereas PayPal, Google Wallet, Apple Pay, Samsung Pay, and Microsoft Wallet are on everyone's lips today, there's a great variety of other digital wallets to fit all tastes, like Mozido, Venmo, Wise, LifePay, QIWI, Skrill, etc.
The question is how not to get lost in this assortment and deploy those payment processing techniques that will be the best fit for your business. The answer lies on the surface, though – align your strategy with the specifics of your operation market. 
What's this in terms of preferred ways of payment? Let's take a look together!
Taking an around-the-world tour and exploring payment landscapes
Destination 1. European countries
Nothing extraordinary here – Europe votes for credit cards, Visa and Mastercard being at all on hearing. As some of the regions are facing the prohibition on the credit cards utilized for online gambling payments, they have to use the alternatives. Debit cards and digital wallets such as PayPall or Skrill cope with their task brilliantly.
Destination 2. India
As gambling activities are on the rise in the region, National Payments Corporation of India reacts accordingly, facilitating such services as Bharat Bill Pay and UPI Payment for the creation of a centralized mobile application environment favoring seamless transactions.
Destination 3. Africa
African regions go their own way and the winner of the "Most popular online casino payment method" title is mobile payment. 
South Africa demonstrates a greater diversity of payment options adopted – Visa and Mastercard dominate, crypto popularity is steadily growing, Skrill, Neteller, and ecoPayz are in the lead if we're talking about digital wallets available across South African online casinos.
Destination 4. Latin America
Can you guess what the most common payment method in Latin America is? No, it's not a credit card. Brazil has their local type of payment called Boleto bancário implying that players can pay at ATMs or via mobile banking. 
With over 10 years of experience in delivering a flexible Turnkey Online Casino software, we'll gladly integrate any payment option tailored to your target market.  
Need more info about our online casino offerings? 
Contact us
Guarding security: what's needed to ensure safe transactions
As stated above, the security of payments and privacy of sensitive data are among the criteria defining the most appropriate payment scenario. But regardless of the payment method you've stopped your choice on, stay up to date with trusted security protection standards and tools in order to never sacrifice the reliability of your online casino. 
If one of your long-term business prospects is building stable, multi-year relationships with players, don't neglect the following security administration procedures:
firewalls for guarding against the unwanted traffic;

Secure Socket Layers to enable the protection of confidential information;

the variety of withdrawal and deposit approaches, which will signal that you're paying a particular attention to satisfying players' financial concerns.
40+ payment options: this is about our Turnkey Online Casino
As we are not new to the market, our online casino software supports all payment methods you need and has a multi-currency wallet. It's not only a payment sector that's characterized by manifold features and options – over 6000 casino games are at your disposal. 
Providing on-demand solution customization, adding extra services to your solution, consulting on licensing issues, sharing experience with crypto and crypto wallets, and more bonuses from our team are available. Learn about it here and reach out to us to get your online casino solution granting you a dazzling success.