MVP development services for startups to make them into market leaders
All-or-nothing thinking is likely to lead to nowhere in the long run, especially when you're blinded by the apparent brilliance of your idea. Even if the temptation is high to bet your entire net worth on it, how about slowing down and starting from sharing product thoughts with its potential consumers first? 
Imagine you're cherishing an idea of creating a pet carer app. Who knows, maybe these are your friends who are repeatedly pushing this issue and lacking a pet care service to make their lives easier. Or have you ever experienced how perfectly convenient it would be if you could leave your four-legged friend under the supervision of reliable professionals?
Anyway, you can invest all efforts in the development of a feature-rich application, put your heart (and money) into online chats, various subscription packages, responsive design, smart and handy navigation… and earn nothing, as this solution might turn out to be attractive only for a limited number of people. So why not start with a minimum viable product (MVP) to analyze the demand first and get some hints about what app features should be placed at the forefront?
What is MVP?
As the name implies, a minimum viable product is a simplified version of a fully-featured solution with a handful of functions essential for checking out whether it's holding appeal for users.
You're hardly dreaming about money bleeding out of your pocket while placing money on a full-fledged product and then realizing that the market response is cold. 
A wiser idea is to identify the solution's basic components aimed to conquer your target audience, craft the foundation, introduce it to users, and collect extensive feedback. 
Do you feel the product will have all chances to take off? That's a good sign for you to upgrade your MVP during further iterations.
Is anything going wrong? At least, you won't need to complain about the time and money wasted, as MVPs drive a quick launch and reasonable expenses. 
Why reasonable, but not minimal? The MVP's viability, coming from the term, points at the usability of the product beyond a set of must-have features. If your intention is to analyze a couple of product-related hypotheses in a fraction of time, a prototype will address the matter. In the case of MVP, we're talking about the product made for people, therefore it should be usable and oriented at various behavioral scenarios.
In short, a user-centered design, key features to test the audience's interest, reliability (mind that this is a product, not an idea on a napkin), and usability are notable MVP characteristics. 
MVP types to check out your offer's potential in the least-cost manner
Crowdfunding
It sounds logical to start with the most cost-effective MVP option.

Get ready with a visual representation. At this very stage, it might be a prototype or even a high-level overview of your idea.

Introduce it with any crowdfunding platform.
The most tempting thing about this MVP type is that you lose nothing. If the idea resonates with the audience, the chances are high to get additional funding and valuable feedback to polish the idea.
Landing pages
Leverage one page (well, two-page LPs work as well) for showcasing your product or service and the worth it will bring to your clients. There's no need to build a website roadmap during this stage –  the landing page is more than enough for detecting the interest points in the concept suggested.
Videos
We're not talking about full-length movies – a concise yet informative promo video unveils all strengths of your product, while stirring up interest in the "full version". Again, treat comments as guiding stars able to show you the right direction of your product development.
Why vote for MVP development: top 5 pro arguments
In order to prevent you from coming up with the thought that the only advantage of MVP is a reasonable price, we've accumulated the most vital reasons why you should consider the development of a minimum viable product if you care about your business success.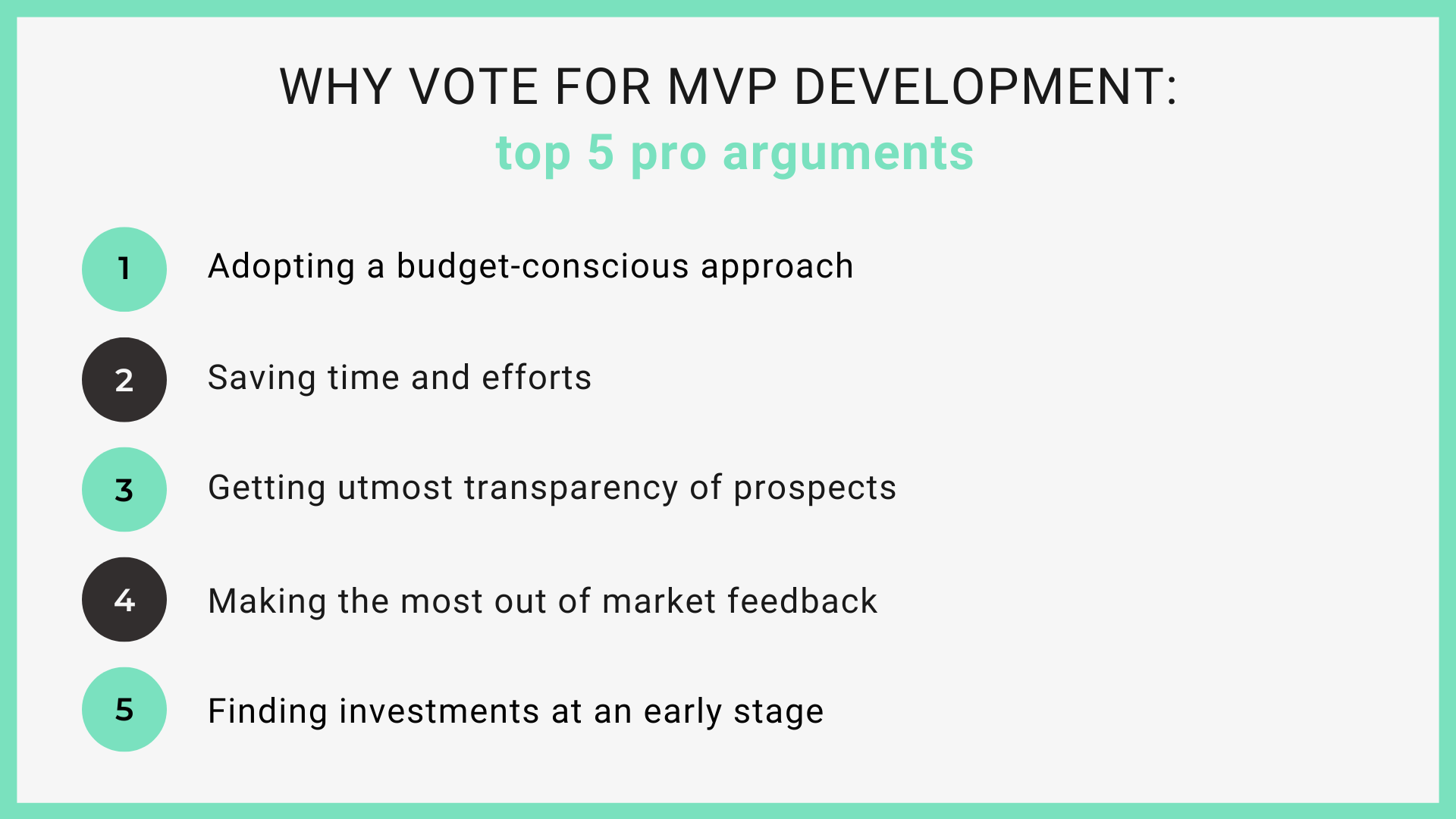 Adopting a budget-conscious approach
As the cost of MVP is less than the development of a full-fledged software solution, you can avoid enormous spendings and financial risks.
Saving time and efforts
Just compare the resources spent on a multifunctional app and a serverless, concise web service offering with a few primary features.
Getting utmost transparency of prospects
Thanks to an MVP, you're checking the viability of your idea from the very start.
Making the most out of market feedback
Client comments, thoughts, and suggestions will let you know whether the idea is worth your contribution. Besides, you're getting the list of to-do features to make your solution more attractive in the short and long runs.
Finding investments at an early stage
The sooner you show the solution, the more extra funding you gain if your idea is a win. 
MVP development route: key milestones
Let's take all steps together, so you don't miss anything along the MVP development way.

Generally, an end-to-end MVP development cycle is as follows:
Ideation phase, which becomes a starting point of your future business.

Researching. Time to conduct a market research to analyze whether end users need your idea to be put into practice.

Shaping the concept, or making up the decision how your MVP will look and what features it will cover.

Development. During this stage, you're building your MVP, implementing all those features that seem fundamental.

Gathering feedback. As a newly-created minimum viable product is a kind of experiment, be ready to absorb the response from the audience involved in its testing. All the insights form your future product roadmap. 
From words to deeds: how to build an MVP?
The milestones above might seem high-level when a company has no idea from where to start. What's going on during ideation? How to envision the picture of the MVP that will definitely become the top most in the market? 
Below is a step-by-step instruction, following which you won't skip any step essential: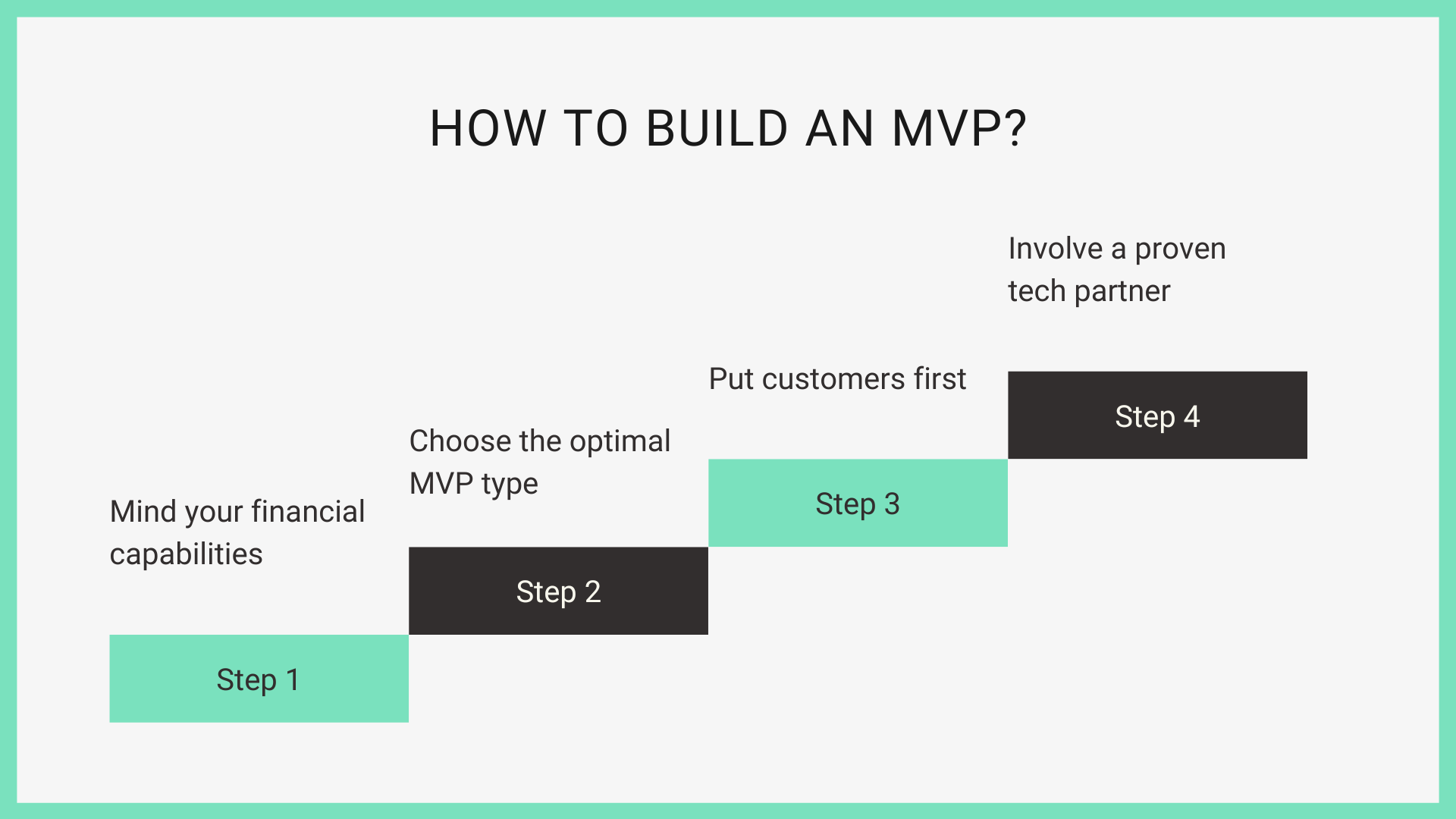 Mind your financial capabilities
Be fair with yourself and establish a budget right from the get-go. This will determine a sound MVP strategy.
Choose the optimal MVP type
Where are you now with your concept? If you do have a vague idea and want to check it out, a persuasive video presentation will show all the bright sides of your creativity flow, while smoothing a lack of its practical implementation. For a service or product already born and longing for promotion among the audience, consider a landing page. Correct "packaging" is half the battle.
Put customers first
Although a target audience takes the third step, bear in mind that it's all about your product or service consumers. Their needs, pains, and desires should be at the heart of your MVP. If you predict customers' wishes and grant them the solutions to their challenges, they won't manage to remain indifferent to your offering.
Involve a proven tech partner
Even if the idea is awesome, realization failures will cost you the trust of the audience you're willing to attract. Find developers for your startup who'll strengthen your team and let your MVP stand out not only conceptually, but also technically.
Faultless delivery: how to avoid missteps
There are two factors that will predefine the triumph or failure of your MVP. Dwelling on a pressing concern of your target audience and placing a bet on right consumer segments will help you carve out your niche. And vice versa, if you're trying to boil the ocean both in terms of the audience and problems covered, you could be led down a blind alley.
Make sure you've come to success
Last but not least, after an MVP goes live, you'll be likely to wonder whether the creation process is rewarding. Among the methods to define it, without making wild guesses, are interviewing consumers and gathering their feedback, calculating the number of sign-ups and downloads, analyzing the behavior of active users, and tracking ARPU (average revenue per user), CLV (client lifetime value), and churn rate. 
Even if anything goes wrong and, as of today, you're not experiencing the expected results, the accumulated data will give you some clues how to modify the product development strategy and reap rewards for investment in your brainchild. 
Learn more about rfp for software development.