Today is the right time to start an online sportsbook
Why? In order to prove our point, we're showing you some figures. According to the Global sports betting market size & growth report, a compound annual growth rate (CAGR) is predicted as 10.2% from 2022 to 2030. In 2021 only, the sports betting market size was valued at 76.75 billion dollars. 
Sounds promising, right? Especially when eSports betting popularity has skyrocketed due to the covid pandemic, and it isn't going to lose momentum. 
The stakes are getting higher, the gamblers are seeking options. Seize the moment and turn into a bookie – we'll spell out the nuances, you'll make your online sportsbook platform a success.
From-scratch development: is the game worth the candle?
Technically, yes, the online sportsbook platform can be developed in-house, but let's face the potential risks first. 
If operators decide in favor of their own solution from the ground up, they should take full responsibility for meeting all gambling software requirements and managing the team of development specialists, analysts, QA experts, designers, and other members. 
Another issue is time to market. As in today's world, those who are ahead of the curve win laurels, at least one year of preparation before the solution goes to market is no good at all. 
Keep your head up! There is a faster and cheaper alternative available.
Turnkey solution: reap a 3-in-1 benefit!
You get a scalable and secure sports betting software solution. 

All the required integrations are provided, including various payment systems.

Fast setup and technical support come as a package deal.
The only question that remains unanswered if you choose this path to follow is, "How to find a reliable software provider?" 
Take care of the following aspects while considering the future partnership:
Custom design 
Flexibility matters, so make sure that you'll get a solution that can be quickly and smoothly tailored to your needs, branding peculiarities, and business specifics.
Multiplatformity 
Don't forget about mobile versions of your solution in addition to web, in order not to drop out a significant segment of your target audience.
Consulting services at your disposal
A trusted sportsbook solution provider won't leave you to your own devices, giving you consultations on all essential matters, e.g. obtaining a gambling license.
24/7 technical support
The same about the prompt fixing of technical issues – your online sportsbook software provider will instantly come to the rescue. 
Profitable odds included
Make sure that the provider has foreseen well-calculated odds. Also, they should be represented in different formats: decimal, fractional, American, Hong Kong, Indo, and Malay.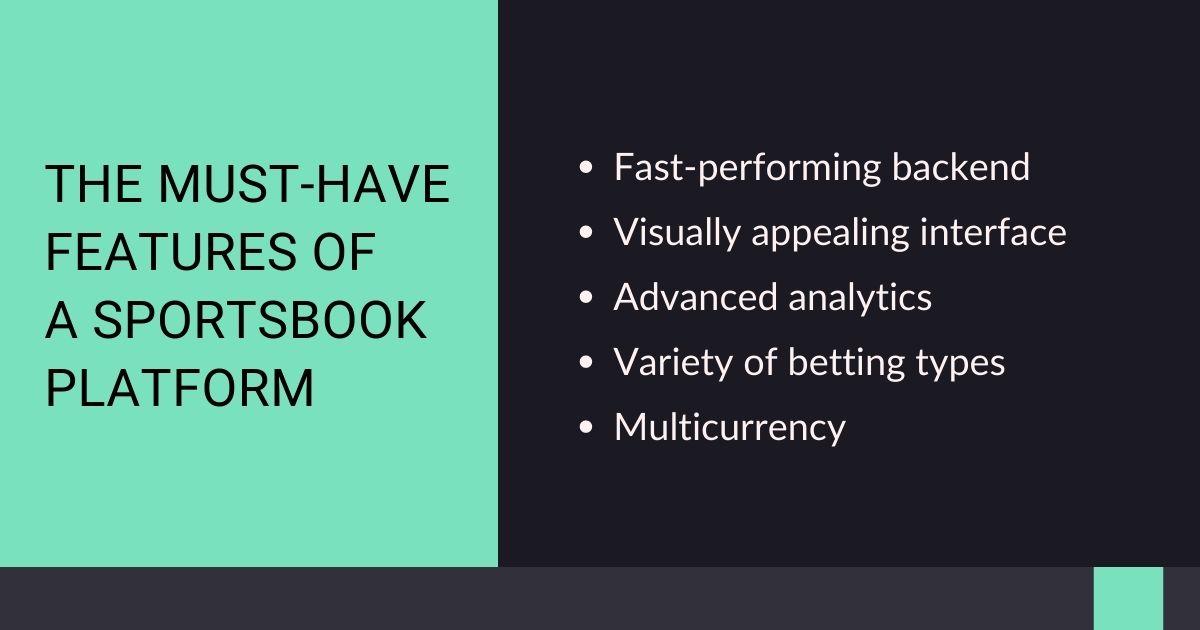 What are the must-have features of an online sportsbook platform?
We'll show you the key capabilities an online sportsbook should possess, based on our experience. Our personal TOP 5 is:
Fast-performing backend
No delays and system breakdowns is a key to success, so impeccable performance should lie at the core of the solution.
Visually appealing interface
Amaze your audience with an intuitive UI and attract more and more loyal users.
Advanced analytics
Do not underestimate data-driven insights – the statistics on bet count, bet sums, GGR, and other parameters will contribute to expanding your business growth.
Variety of betting types
It's better to offer a rich choice of betting types available, like live betting, totals, parlay, handicaps, Live In-Play, and many more, rather than restrict the selection.
Multicurrency
Again about freedom of choice, this time in terms of payment options. If an impeccable player experience is your top priority, don't forget about e-wallet and cryptocurrency support. And these five are only a tip of the iceberg – our betting platform covers a wide set of features, including over 18 kinds of sports and eSports, real-time sports data feeds, player management and segmentation, and odds management. Wonder about all the opportunities?
We've comprehensively introduced them, so you get the full understanding of a sportsbook with BetForge our team can help you develop.
Expenses: how to calculate them right and eliminate risks
Of course, you aspire to place a right bet, launching a sportsbook. And the first question that comes to mind is, "How many investments do I need to hit the jackpot?"
Let's set it straight in 3 points.
1. Licensing costs. They hugely depend on the market, so there is a need to explore this topic in advance because the decision will define the pricing. Need assistance? You're welcome to contact us anytime, and we'll gladly consult you on the license-related questions.
2. A golden rule of operators sounds as follows: you should have enough money to cover every incoming bet. If you fail to pay all the winners from the very first jump, how reputation is even a consideration. From the purely financial perspective, this will inevitably lead to bankruptcy in the shortest term.
3. Keeping enough cash reserves will help you feel at ease without significant profit for a couple of the first months after the start. But bear in mind that the sportsbook is about long-term efforts, having a delayed effect. If you consider a financial cushion beforehand, you'll be out of danger in the long run.
Are you game? Mind the extra value, choosing 2 instead of 1
We're talking about a bonus we've got for you – installing two products at once will guarantee you a significant discount. As soon as our online sportsbook is smoothly integrated with another product, Online Casino, you are free to launch two of them at once and save on software installation up to 25%.
Any questions on our special offer or inquiries about possible support with starting your online sportsbook bound to succeed? Let's talk and know each other better, while identifying possible areas of win-win cooperation!
Do you want to build your mobile application? Learn more about Mobile App RFP'.