Mobile phenomenon and mobile apps in numbers
Mobile applications invaded the world and left desktop and tablet markets far behind. We could have had long-hour debates on how mobile managed to shift the paradigm and gain support of the majority of internet users thanks to its ease-of-use and simpler access. 
But numbers are going to be more persuasive than trend considerations.
As per Digital 2022: Global Overview Report, over 67 percent of the world's total population owns and actively utilizes mobile phones.
Almost 5,4 billion, including unique users, formed an impressive number of mobile supporters by the beginning of 2022.

What's about the portrait of a typical mobile user and their activity? On average, a representative of the mobile community devotes almost 5 hours a day to the interactions with a mobile phone. What does it mean at a larger scale then? 1 billion years roughly will be given to mobiles by all mobile adherents.
 Finally, just imagine that during every single minute, people download about 500,000 mobile apps, which results in quite natural revenues, 400 billion dollars in 2021 only, as the Statista report says. 
Isn't this evidence enough to conclude that distributing mobile applications is a far-reaching business having all chances to gather pace? 
Today's question that's worrying the market is "Which operating system to choose for building a mobile app?" The truth is you don't need to make a choice at all, thus engaging a bigger mobile audience with your app tailored for iOS and Android. But first things first.
Basics you need to know about cross-platform mobile applications
Android or iOS? Either of them!
Cross-platform app development is characterized by the power to cover more than one operating system.
One code instead of a few variations
A cross-platform scenario of building a solution is remarkably saving developers' time — rather than writing a new code from scratch to satisfy the requirements of each specific OS, mobile app development specialists scale one code across a number of platforms.
Platform-neutral tech needed
A cross-platform development peculiarity lies in the mandatory selection of platform-independent technologies. Among them are CSS, html, JavaScript, and others. 
Cross-platform vs Native: mind some crucial distinctions
So what about another way of mobile app development? Native app development is not inferior in popularity to cross-platform. To fully comprehend which app development method would better match your business objectives, we're suggesting taking a look at a concise yet meaningful comparative analysis of the two app development scenarios.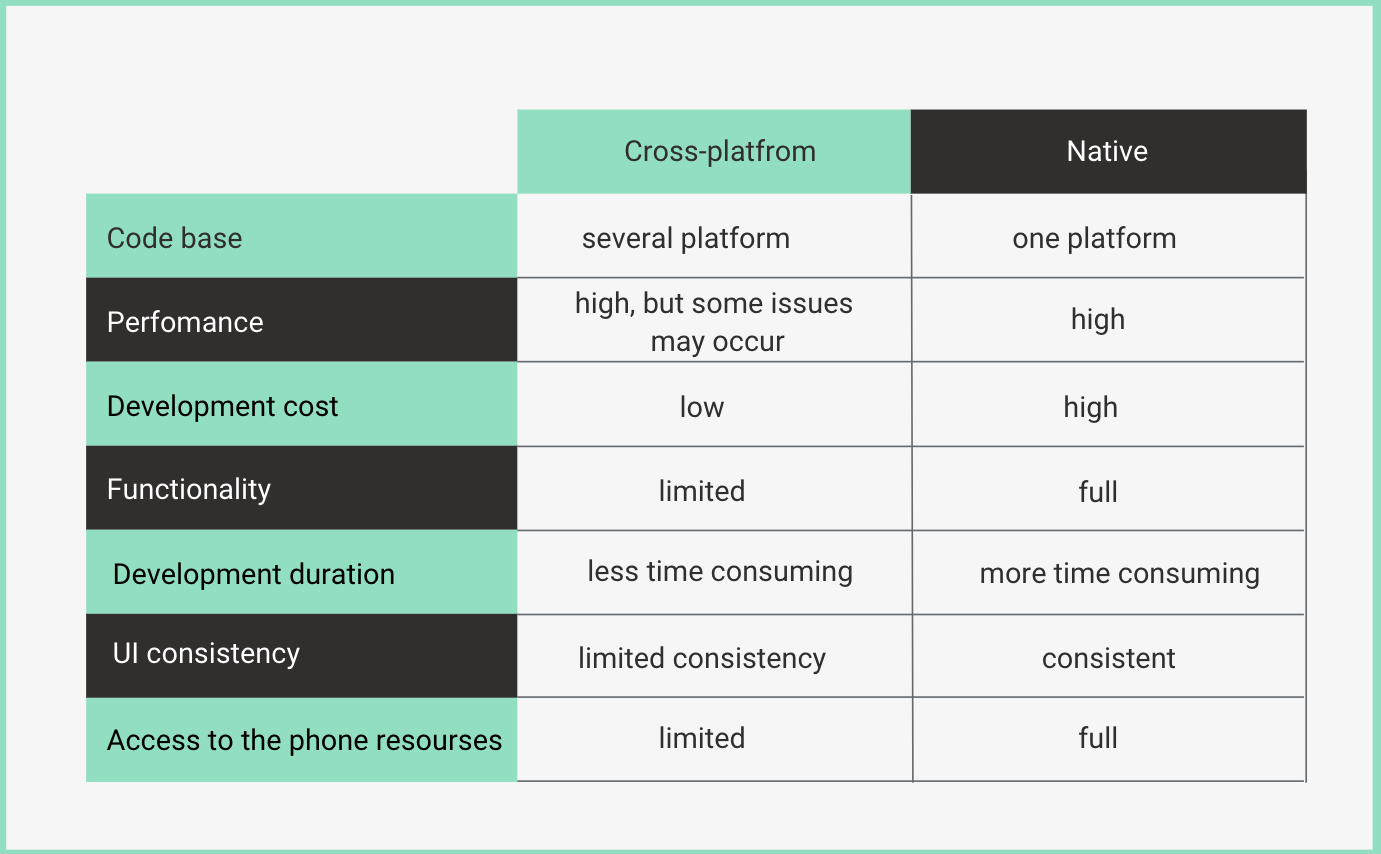 Platform compatibility
Cross-platform: crafted once, used for various platforms.

Native: one codebase, one platform — that's the rule. If the app runs smoothly on iOS, to make it a perfect fit for Android, you're likely to reach out to the appropriate development team for designing an Android native app from the ground up.
Variety of functions
While native mobile apps are rich in functionality as they target only one platform, cross-platform apps might imply certain limitations in favor of a wider platform reach. 
Performance gaps
Both options are characterized by high performance parameters, although cross-platform mobile apps occasionally give way to their native rivals.
Time-to-market
Cross-platform apps most certainly favor a quicker launch than native software.
Development expenses
Cost-effectiveness is more about cross-platform, as native mobile solutions mean bigger investments.
What makes cross-platform apps stand out?
We've already mentioned a handful of strengths of cross-platform mobile solutions while comparing them with native apps. Still, there's a room for some more value-adds of this type of app development for your business, like:
A proven method to grow your market presence 
When one app works for web and mobile (iOS and Android included), this multiplies the number of end users you might win over with your solution. Don't forget that this type of development doesn't require any extra costs. On the contrary, it saves your money.

Faster app deployment entails trouble-free maintenance. It's far easier to make changes to the code, as the amendments are quickly applied across all covered platforms. 
Clear and neat UI spread over all devices 
You won't experience any discrepancy in UX and UI as regardless of the platform, cross-platform mobile apps ensure a similar look and feel. 
Are you thinking about launching your own cross-platform solution?
Get a free business consultation on how to do it right!
Let's talk!
Are there any hurdles during cross-platform mobile app development?
"Limit" is a concept that sometimes might negatively characterize this type of development. As the aim of a cross-platform app is to reach a couple of platforms at once, they typically have a trickier code, which can cause certain performance limitations.
As for the functional and UI elements diversity, this is also the weakness of cross-platform solutions, because they fall short to support some of the native features, related to either functionality or navigation.
Does a cross platform development path work for your business?
In spite of a few limitations the cross platform development method implies, it can have all chances to become the best fit for your business development strategy. Wouldn't you mind checking it out? 
Just take a one-minute quiz and make sure it will be the right way for you.
Is a fast time-to-market your top-priority goal?

Getting in front of a wider audience with the mobile app stays at the forefront of its development strategy.

Today, your project is in the discovery phase, and the next step is to

create an MVP

for a quick check of the viability of your idea.

Your web solution lacks a mobile version, so you're looking for efficient and economically viable mobile development options.

The simpler, the better: you expect your mobile product to be clear and intuitive, without over-complicated user experience.
If you've answered "yes" to at least three questions mentioned above, cross-platform mobile app development is likely to perfectly complement your ambitious plans. 
Need to strengthen your expertise in the area of cross-platform app development? Our expert mobile development team is always ready to accelerate your path to the desired business goal! Please contact us anytime to discuss the potential areas of collaboration.